www.airport-taxi-innsbruck.eu
Executive Director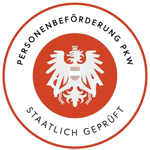 Dölek Ömer Junior
Sales identification number


ATU 65 39 73 22
Liability:


All texts on this website have been carefully checked. Nevertheless, no guarantee can be given for the accuracy, completeness and timeliness of the information. A liability of Airport Taxi Innsbruck is therefore excluded.
Hints:


For legal reasons, we must point out that we can not always influence the content of linked pages and therefore are not responsible for it! All personal data entered through forms on this site are used by us only for the purpose intended and, if desired, deleted.
Privacy Policy:


This website uses Google Analytics, a web analytics service provided by Google Inc. ("Google"). Google Analytics uses so-called "cookies", text files that are stored on your computer and that allow an analysis of the use of the website by you. The information generated by the cookie about your use of this website (including your IP address) is transmitted to and stored by Google on servers in the United States. Google will use this information to evaluate your use of the website, to compile reports on website activity for website operators and to provide other services related to website activity and internet usage. Google may also transfer this information to third parties if required by law or as far as third parties process this data on behalf of Google. Google will never associate your IP address with other Google data. You can prevent the installation of cookies by setting your browser software accordingly; however, please note that in this case you may not be able to use all features of this website to the fullest extent. By using this website, you consent to the processing of data about you by Google in the manner and for the purposes set out above.